Customize your water bottle
Rest assured that your company logo and brand will be reproduced with the highest fidelity using Specialized own state-of-the-art equipment and quality inks and materials. Combined with Sharper Brand's friendly customer service and talented designers, you'll receive a one-of-a-kind bottle that will impress.
Customize water bottle colors
Custom Specialized water bottles are available in a variety of colors to help build your own unique look and style. We are able to do this utilizing Specialized water bottle's manufacturing process which provides consistent color and quality so you have a bottle that is second-to-none.

Customize water bottle lids
Mix and match lids to build a unique look all your own. Specialized offers the MoFlo and Watergate lids for all the Purist water bottles, and the Big Mouth caps in a variety of vibrant colors. Combined with your logo and corporate colors, your water bottle is sure to blaze the trails and the office.
Quality that endures
Specialized water bottles have been designed and tested for their ability to endure the harshest elements. Using the highest quality polymers, Specialized water bottles go through a special process called Plasma Enhanced Chemical Vapor Disposition PEVCD). During this process, the inside of the water bottles are coated with Silicon Dioxide, a naturally occurring compound, which keeps the polymer in the water bottle from absorbing bad odors and resists stains. What this means to you is a consistent taste and freshness from your water bottle.

Discover Specialized water bottles
Specialized water bottles are rooted in tradition of quality and craftsmanship. To view the water bottles or learn more about the history, click on a link below.

Science of thirst
Sure it's just a water bottle, but when you're facing unforgiving terrain in punishing heat that vaporizes sweat, you'll want a water bottle that you can depend on. The experts at Specialized have been hard at work for the last 30 years to develop the best water bottles around. Looking to nature for inspiration, the engineers at Specialized learned that the leaves of the Lotus flower were able to repel not just moisture, but also contaminants. This led them to develop a technology that coats and shields the inside of bottles to prevent odors, stains and mold build-up. All this so you can tell mother nature to stick it!
A water bottle you can feel good about
All Specialized water bottles are manufactured in the USA, are BPA-free, and are made of materials that are 100% recyclable. Undergoing a rigorous battery of tests, all Specialized water bottles are built for quality and are dishwasher safe, and cold and freezer friendly. Select specialized water bottles go through a special process which coats the interior of the bottle to prevent absorption of odors, and stains and to preserve the purity of your drink.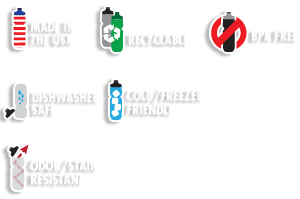 Assistance

Customer Service

My Account

Ordering

Articles